Henan Faywoll Co. Ltd., was founded in the year 2017, however, within a year we have gained immense popularity not only within the boundaries of our nation, but worldwide because of the quality of our products that include Irrigation Sprinkler, Silage Chopping Machine, Silage Baler, etc. It is because of our quality analysts who thrive to achieve success. The foundation stone of our company is based in Zhengzhou (Henan, China) from where we conduct all our business practices of exporting and manufacturing top-of-the-line products. We do not aim to offer Silage Chopping Machine but some value to our clients so that they can further render some value in the agricultural sector.
Business Strategy

For determining the direction of our business, we implement best business strategies after conducting a thorough research. The implementation of business strategies allows us to understand our position in the market. Our company's strategy mainly involves determination of strengths that are also the key elements of our business. We include some factors in our strategy that allows us to understand our past performances. Such factors are mentioned in the following steps:

KPI (Key Performance Indicators): These allow us to conduct the historical analysis of our business.
Management Information Systems: These are implemented for facilitating the extraction of some crucial information and KPIs.
Tracking Performance: Our performance can be easily tracked by monitoring KPI.
Our Focus "Research and Development
Research and Development (R&D) is one such department in the organization that plays a key role in developing a new product or product line or upgrading an older one. This being the reason, we pay strict attention towards our R&D unit and ensure that researchers are available with all the facilities that are required by them for producing nothing but the best range of products. It is because of our R&D team that our business has witnesses enormous success within a year. By conducting a through research prior to the production of new products, we ensure that a defect free product line is engineered.
Business Specifics of Henan Faywoll Co. Ltd.


| | |
| --- | --- |
| Nature of Business | Manufacturer, Exporter and Supplier |
| No. of Employees | 05 |
| Export Percentage | 40% |
| Export Turnover | USD 1 Million |
| Annual Turnover | USD 2.5 Million |
| Income Tax Registration No. | 91410100MA44F8917M |
| Monthly Production Capacity | 1500 sets |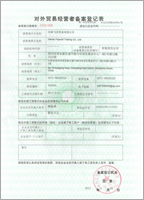 Get in touch with us